How to tell your BF you want fisting
Is there anything as intense as fisting? The feeling of your ass stretching by the hand of your lover, the sensation at the brink of pleasure and pain, the hardest cumming – that's all super hot. However, the stigma around fisting is real, and it's not always easy to talk about it with a new partner. If you really want to try this extreme activity, you should figure out how to tell your BF you want fisting.
Kink shaming
It's true that fisting is on the taboo side of kinks, but that's one of the reasons why it's so arousing. Despite how common fisting is, wider society often disapproves of it and tends to kink shame people who enjoy this hot activity.
In the kink community, fisting is pretty standard, but things are different outside of it. Don't be surprised if someone blocks you on a dating app when you mention you're interested in fisting. If this type of kink shaming has already happened to you, I get how it can be scary to start the talk about fisting with a current partner.
The good news is that society is becoming more accepting of kinks and different sexual behavior every year, according to some studies. Who knows, maybe kinks won't be stigmatized at all one day. But for now, it's wiser to start patiently when you want to tell your BF you want fisting.
How to start the fisting talk with your BF
Whether you want to tell your new BF that you love taking a fist up your ass or you want to try this activity with someone you've been dating for a long time, it's crucial to be honest and have patience. Of course, it helps if your boyfriend is open-minded and kinky himself. Still, he might surprise you even if he's mostly into vanilla.
Like with any other relationship-related thing, communication is vital when it comes to fisting. I cannot stress enough how important it is to talk about everything with your partner. So, start the conversation casually when you're both relaxed. Don't ask for fisting when you're already naked and ready to bareback your minds out. Instead, do it on a regular afternoon or during dinner.
If the relationship is new and you don't know what he likes, start with that. Tell him how you enjoyed your last steamy session and ask if it was that good for him as well. Then ask him if he would like to add something else, something he usually does, the next time you're in bed. See if there are some kinks he would like to practice and then mention fisting.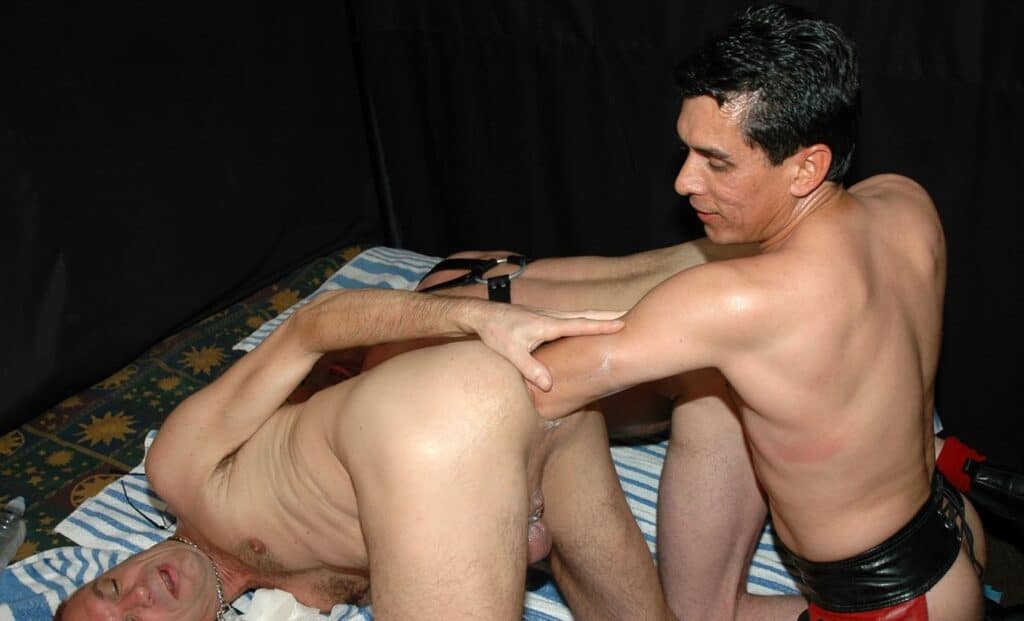 Help your BF get the right info
Once you break the ice and see that your BF didn't freak out, you can explain what it is that you love about fisting or how it works. Ask your partner what he thinks of it. Maybe he'll be enthusiastic, or scared, or something in between. In any case, make sure he has enough knowledge about fisting.
The fear and the kink shaming are often based on stereotypes about fisting. When people are not well informed, they often make a picture in their heads that has little to do with reality. The most common stereotypes about fisting are that it hurts or that it's dangerous, which is not true. When done correctly, fisting shouldn't hurt, and it doesn't lead to health risks.
Some people also say that you can never again enjoy regular sex after you try fisting, which is bullshit. Fisting also can't stretch the ass permanently as skin and muscles are elastic. It takes some time for the butt to completely heal, but it returns to its previous form after a few days at most. Yes, when you practice fisting often, your ass will take the fist easier because muscles get used to it, but it definitely won't become loose.
These and many other misconceptions are not unusual, so make sure you go through them when you tell your BF you want fisting. Answer all his questions with patience and help him get the right picture.
How to tell your BF you want to fist him
If you enjoy fisting others and dominating them this way, it might be a little tricky to ask this of your new boyfriend. Start the conversation as I've already suggested and ask him if he would at least think about it. Explain to him how you would prepare his sweet ass for it. Help him imagine the pleasure that he would get with fisting. If he seems interested, great! However, don't push it if he doesn't want to try it. Fisting is not for everyone.
Kinky pleasure
Talking openly is crucial for every relationship. In case you don't know how to tell your BF you want fisting, just keep in mind one thing – communication. It's possible that your boyfriend would be thrilled to stick his whole hand into your ass. There is also a possibility that he will be scared, turned off, or just not interested. But you won't know how he feels about this kink unless you ask him.