Best of gay seduction porn
There is something truly magical in the art of seduction. Knowing that you have the ability to make any stud lust for you, that your charm and sweet talk are all that it takes for them to strip and get down on their knees, that is all anyone can ask for. And watching that on the screen can be just as fulfilling. That is why gay seduction porn is so appealing. Even more when it focuses on (what seems to be) the impossible – seducing straight men who are exclusively into cis women. Or so they think, until they have their first taste of hard cock.
Top gay seduction porn sites
Straight boys switching teams is a common fantasy. Every gay man would be proud of himself if he managed to seduce a straight guy. It boosts the ego (and the dick) to know you are hot and desirable enough to make someone wish to fuck you and suck your cock even though they are hetero. The gay seduction porn sites I'm about to go through play with the idea that no one is straight enough that smoking hot studs can't seduce them. Sometimes all it takes is a push in the right direction. And that direction is often up their ass. This delightful fantasy focuses on the thought that even the straightest men can't resist for long when a hunk who knows what he is doing wants them in his bed.
Straight Boys Fucking
The main focus of this porn site is MMF threesomes. Despite that, you will see many straight guys taking their first steps into the gay waters. For some of them, scenes on Straight Boys Fucking are their first gay experience on camera. So, they take small steps. Along with fucking the girl in spit-roasting style, the men will kiss each other and suck or stroke hard dicks. The variety of dudes on this site is genuinely admirable. There are twinks and jocks, slender, muscular, and athletic guys, average dudes, hipsters, skaters, and even alt guys. And all these straight men will get their free run on the other side for a brief time.
Str8 Boyz Seduced
When it comes to gay seduction porn, Vinnie is the true master. He is the host of the Str8 Boyz Seduced website, and he has led hundreds of straight men into his bedroom. The models on this site are real-life heterosexuals going gay-for-pay for the first time. Still, the scenarios will make it look like they just couldn't resist Vinnie's strong and masculine body. There will be a lot of messy blowjobs and mutual handjobs, as well as barebacking. Yes, these amateurs will let Vinnie drill their tight, sexy asses that were never stretched before.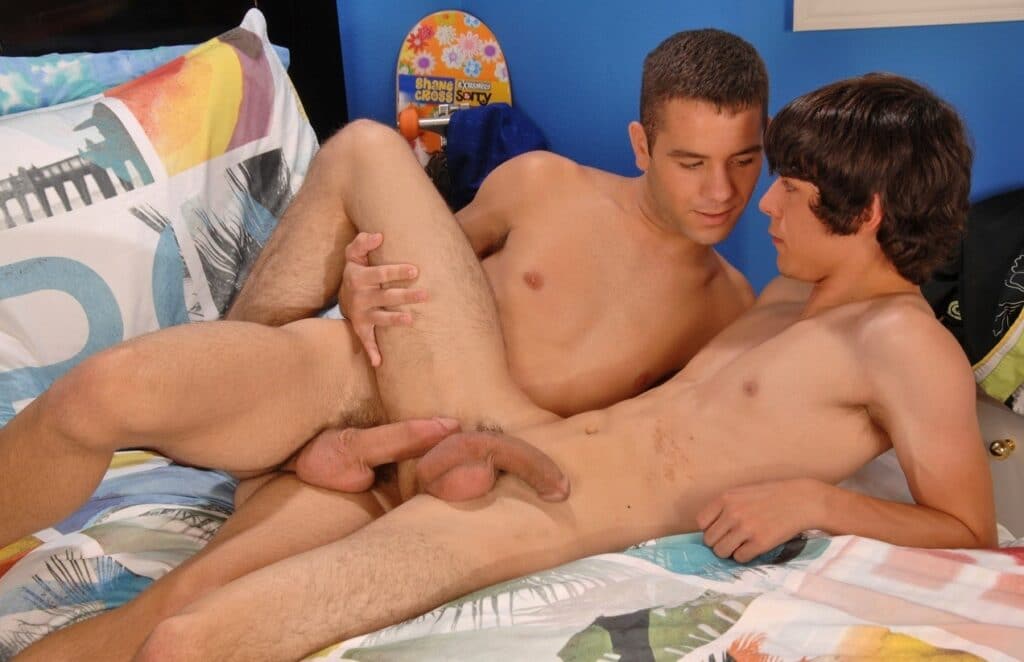 Str8 To Gay
There are always tough nuts among the straight guys when it comes to gay seduction. And there are those who seem like they were only waiting for the first chance to have their first sexual encounter with another man. Str8 To Gay features sexy boys who don't hesitate much to kiss their gay friend, stepdad, barber, or neighbor. And it doesn't take long for them to go from kissing to barebacking. Sometimes the guy is heartbroken when his girlfriend leaves him, so he decides to switch teams. Other times, there is a sexy daddy-type that knows how to get a twink to like him, and the twink is usually eager to be seduced.
Str8 Chaser
Another entertaining gay seduction porn site is Str8 Chaser. The thrilling POV scenes first featured a guy with a camera who would offer to pay men on the street to film them as they flash their cocks. Not very seductive, I have to admit. Still, the site evolved, and it now shows real seduction stories. The stud with a husky voice and the camera still searches the streets for hot straight men, only now he convinces them to go home with him. You will admire his sex skills as much as his extraordinary talent for picking up guys. Sometimes, the seduction doesn't happen on the street, but in classic porn set-ups, such as using ass as a payment method, forbidden step-family sex, and the ever-green plumber in the house.
The art of gay seduction porn
There are many reasons why gay seduction porn movies are so popular. They give you an insight into how smooth talkers work, plus you get some hot tips on how to become better at seduction yourself. And, of course, they fulfill the tempting fantasy of convincing a straight guy to have a taste of the other (rear) side.